6 Edgy Outfit Ideas for Men To Rock Sublimation Track Pants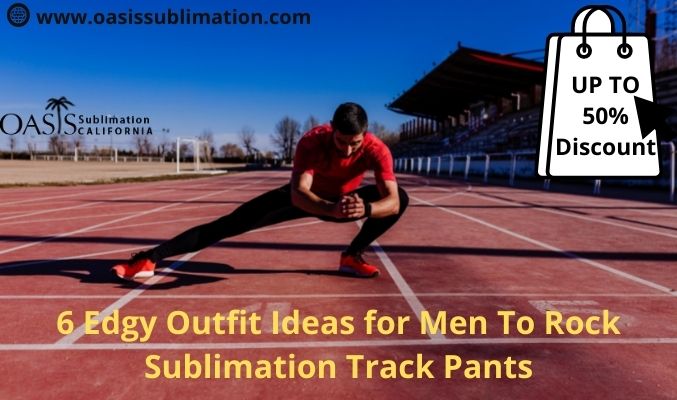 Sublimation track pants have become a popular athleisure staple in menswear as these add an exuberant appeal to your fitness outfit and level up your workout comfort. We've listed some of the noteworthy sublimated track pants outfit trends that you can follow to make your fitnesswear or streetwear edgier. If you're a business owner, on the lookout for sublimation track pants for men, you should contact a reputed sublimation apparel manufacturer. Such a reckoned sublimation wear supplier is sure to provide high-quality sublimation track pants, sublimation socks wholesale, sublimation t-shirts, sublimated hoodies, sublimated jackets, sublimated leggings and more.
White Full-Sleeved T-shirt with Black Sublimation Track Pants
Are black tracks your favorite workout wear? Then, you can sport black sublimation track pants that have a snug waist band and sturdy belt loops with a long-sleeved white t-shirt. A cool pair of black sublimated tracks will ensure your free movement during exercise. Plus, this black and white outfit combo will make you look dashing to boost your confidence during workout!
Black Tank with Gray Sublimation Tracks
You can pair your comforting gray sublimation tracks with a lightweight black tank to workout energetically, owing to the heat-proof fabric of the track pants. Such a suave outfit will guarantee optimum flexibility during exercise and look stylish.
Navy T-Shirt with Beige Sublimation Track Pants
Want your gym outfit to look smart? Well, you can select a moisture-wicking navy t-shirt to pair with elegant beige tracks that are crafted through sublimation printing to look fashionable when you're at the gym, out for a jog or exercising outdoors.
Red T-shirt with Blue Sublimation Joggers
Wear a breathable red short-sleeved tee with luxurious deep blue sublimation tracks that have an adjustable drawstring to workout comfortably while looking sassy. Such a vibrant fitness outfit is just perfect to make your fitness look fresh and contemporary!
Recommended Post: What Makes Sublimation One Of The Most Popular Trends In The Clothing Industry?
Black T-shirt with Camo Sublimation Tracks
As camo prints are the new cool in outerwear, you can select an appealing camo jogger to wear with your breezy black t-shirt to sweat it out with full vigor. This dapper outfit combo will enable you to appear suave and dynamic as you pump up your muscles actively.
Gray Long-Sleeved T-shirt with Maroon Track Pants
Give an edge to your workout outfit by pairing your gray full-sleeved t-shirt with stretchy maroon joggers. This will not only enhance your fitness style quotient but also help you move your legs freely during exercise, looking uber-cool and happening!
If you're a retailer, intending to obtain men's sublimation track pants, be sure to link with a promising sublimation apparel manufacturer with a mammoth collection of sublimated clothing. Such a sprawling collection will enable you to stock up ultra-cool sublimation tracks, blank sublimation socks wholesale, sublimated running t-shirts, sublimated running singlets and other trendy sublimation wear of exceptional quality.
Click for Full Audio: 6 Edgy Outfit Ideas for Men To Rock Sublimation Track Pants
Direction: https://goo.gl/maps/mdkLZoUsLLvkjFo67