Is It Safe To Say That Sublimated Leggings Are The Next Big Thing?
Leggings are an essential component of a capsule wardrobe, but they're no longer simply a must-have basic — they're also trendy! Yes, major designers are adopting leggings at a rate not seen since the 1980s. Still don't trust us? The stretchy closet staple can be found front and center in Stella McCartney's collaboration with Adidas, as well as on the runways of major designers such as Marine Serre and Givenchy. There has never been a better moment to include print-on-demand or sublimated leggings in your shop.
Why leggings?
Because the leggings business is expanding, it's no wonder that so many vendors are telling a sublimated leggings manufacturer, "I want to sell leggings!" With so many people working from home, it's no surprise that the sports-luxe aesthetic is making a comeback. Leggings mix comfort and style. They're not only attractive, but they're also stylish! What else could you want in a garment?
The adaptability of leggings is undeniably its finest feature. When properly styled, they may be worn in any setting: the gym, the bar, the park, the office, or simply on the sofa! This is encouraging news for sellers. It means they can reach a wide spectrum of people with their print-on-demand or sublimated leggings.
Leggings may be customized by sellers to suit a variety of tastes and objectives. If they want to appeal to fitness aficionados, they may create printed training leggings. If they want to capitalize on a certain trend, they may create their galaxy-printed leggings, for instance.
Because the possibilities for difference are limitless, the question "why leggings?" should not be asked. Instead, consider why not leggings. You may profit from this industry by developing and selling leggings from the comfort of your own home.
What is it about sublimated leggings that makes them so appealing?
Leggings are one of the most comfortable clothing items you can wear, and they can be made much more comfortable with the correct design. Depending on the type of consumer your store serves, you may choose to use athletic prints, vivid colors, or wacky designs.
Printed leggings are an excellent canvas for a variety of patterns. Given the current popularity of yoga, the sales potential for this item should not be underestimated. With the proper custom-produced leggings, you can spruce up your online business and improve sales.
When you open your Instagram app, you'll notice leggings all over the place. Every influencer appears to own a pair of statement shoes. This is a positive indicator for you as a seller: your consumers will most likely want to share their printed leggings with their friends. Think of it as a free advertisement!
Continue reading for a few intriguing sublimated leggings choices.
Leggings with a Pattern
Customized all-over print leggings allow you to express yourself completely. You might, for example, capitalize on the fad for galaxy patterned leggings. Conversely, you could embrace TikTok's infatuation with all things Y2K and create a vintage duo. Pink and purple camo might be surprisingly popular…
Leggings that are timeless
What is a wardrobe without a reliable pair (or two) of black leggings? They appear to go with everything. When paired with an oversize tee, they exude easy elegance. They may offer elegance or edge when worn beneath a dress with shoes or heels.
If your business doesn't presently stock a pair of classic leggings, you should reconsider. People must purchase things someplace, so why not from you?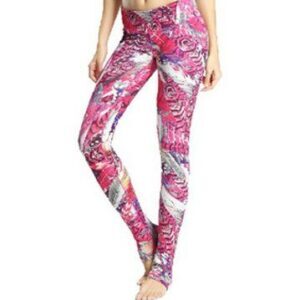 Leggings in a single color
Is there a specific hue that your consumers like to see in your store? You may select the most fashionable color schemes for your bespoke yoga pants.
Leggings are a great layering piece, therefore some individuals buy them in a variety of colors. They also provide matching leggings for every outfit conceivable. Consider this: you may be the one to sell them.
Business owners, don't forget, you can also impress your customers by adding custom sublimation shirts to your store's stock. Contact a dependable manufacturer right now.
Direction : https://goo.gl/maps/xYy5vxnNzKp3D5yG7